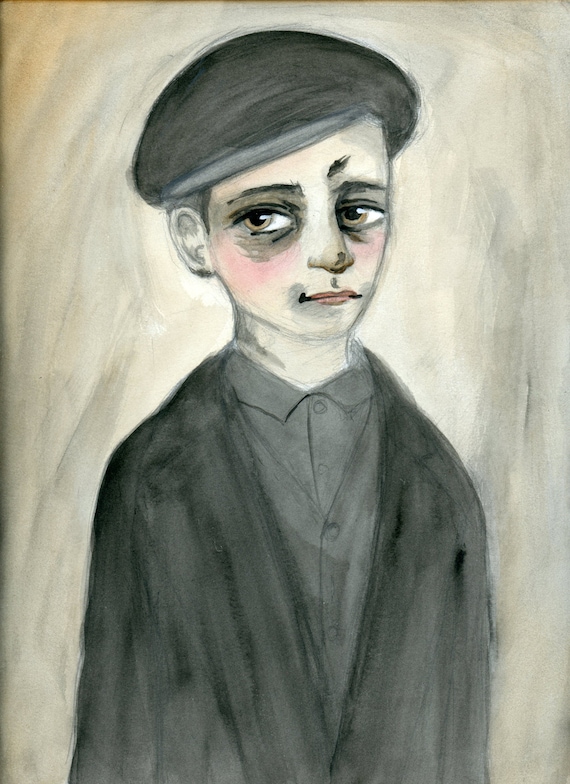 Orphan boy working as a coal
mine
Portrait of an orphan girl
In Victorian literature, orphans play a prominent part in these texts. They appear in most Victorian literature and are written about by many famous writers in this period, such as Dickens and the Bronte sisters. The descriptions of orphans in these texts which tell their story are the only historical sources that people have to rely on as there is no other written evidence.
The word 'orphan' is used to describe when one or both parents die. However, 'orphan' was also used by prostitutes as a way of 'eliciting sympathy as well as closing off one's past to unwelcome middle-class scrutiny'. When parents had died, there were few choices for the child left behind in accordance to their social status. There was adoption by close relatives, neighbours or couples with no children; educational facilities such as boarding schools paid for by a relative; or orphanages. If none of these choices worked out for the child, then they would have a further two choices: either become a criminal or beg for money on the street as well as doing menial jobs such as working in a workhouse. However, if an orphan was considered middle class, they would not have to go through as many transitions as a lower class orphan, as they are 'figures who by virtue of their class position are the most likely to be recuperated.'
A governess
Not all of these options were available to them and the decisions were not up to them. There were a few factors that would impact the final decision: the most important factor being social status. On top of that, there were some rules that would have to be followed. For example, if a middle class couple had chosen to adopt a lower class orphan, then the child would be treated differently as they would still be seen as lower class. This is what had happened to Jane in Jane Eyre. Her aunt had chosen to take her frustrations out on Jane and had always chosen her own children over Jane, as she had seen her as a burden as she had promised her husband that she would look after Jane when he was on his death bed. When she couldn't look after her, she had chosen to send her to a boarding school, which would mean that she would not be responsible for her anymore as the responsibility of her welfare would fall into in the hands of the school. After she had finished, she would be 17 which would mean that she would be considered an adult and old enough to work and earn her own money. When looking at the narrative from this point of view, Jane was more fortunate than other orphan children as she had the opportunity to go to school and work afterwards as a governess, an option that is not always possible for orphans who have no choice but to suffer hardship for the rest of their lives.
Orphans had turned to crime when they had no family and/or money. This would also happen when they were not adopted, put into education or orphanages. Statistics have shown that 60% of criminals in Victorian England were orphans. This depiction of child criminals can be seen in Dickens' Oliver Twist. This text shows its readers the sort of life orphans had led when exposed to crime. This text shows all the dangerous things that an orphan child is exposed to when their welfare is put into the wrong hands. He was surrounded by people who had preyed on him and other orphans who had suffered from misfortunate circumstances and were used by criminals to benefit themselves, like Fagin. He was responsible for the welfare of the children in his care but decided to take advantage of their innocence and put their lives in danger. However, in the end, Fagin and his associates are stopped and Oliver is adopted by the benefactor of the so-called orphanage ran by Fagin and the criminals.
An orphanage for boys
Both texts may be seen to romanticise the life of orphans by making them go through hardship for a little while in the narrative and at the end allowing then to get their 'happy ever after' by either marrying the love of their life or getting adopted by a person of a higher social status and being accepted into their family. This doesn't seem to be displaying the right depiction of orphans' lives. However, looking at Emily Bronte's Wuthering Heights may show depict a more realistic life that orphans face through the character of Heathcliff. He is described as a 'dirty, ragged, black-haired child' who was taken in by Mr Earnshaw, suggesting that he is an orphan. He goes through the hardship of suffering at the hands of Hindley and Cathy and being treated differently. He uses all of this to his advantage when he takes Wuthering Heights from Hindley and makes people suffer as revenge for him being mistreated.
However, as there are no sources except for texts such as these, there is no way of knowing how accurate these texts can be viewed as. But as there are many similar occurrences in such texts, we can be rest assured that some of the information can be taken as accurate.
Peters, Laura. Orphan Texts. Manchester: Manchester University Press. 2000. Print.
Bronte, Emily. Wuthering Heights. Harmondsworth: Pengiun Books. 1978. Print.